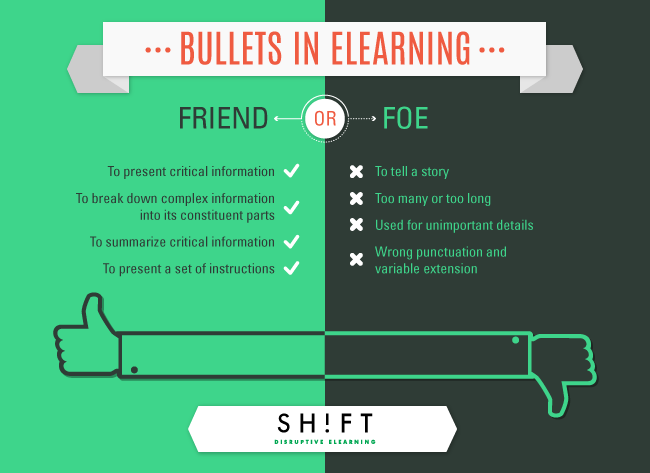 ---
OMG! Did you just shoot the learner?
What did you do? Did you misfire a bullet? Or did you pump in too many bullets?
Be careful. The bullet is a powerful weapon. You must use it wisely to create the right "impact."
We are talking eLearning here. And the bullets are those little black dots that instructional designers are either obsessed with or hate with a vengeance. The former breed litters their courses with bullet lists—an overkill. The latter group avoids bullets like the plague; they probably do not know how bullet lists make learning matter more comprehensible.
As an instructional designer, you have to tread the middle path. Do not pay heed to what the fatalists say. Bullets are not bad. Period. On the other hand, don't be too trigger-happy either. Use bullets wisely to make your courses look good, read intelligible, and make sense to the learner. But before shooting off the tips, here's what you must remember about bullet lists:
Bullet lists help to structure ideas and present them in bite-sized chunks that are easy for the learner to skim over.
Bullets are like mini headlines. The ideal bullet item is a crisp phrase that presents just the essence of an idea; it is not a rambling sentence that makes the learner trail off midway.