eLearning programs require adult learners to interact with an online platform and understand new information that is essential to their jobs. At times, it can be challenging to motivate these employees during an online learning experience. You may feel as if the learners are only participating because they have to, not because they want to. And learners may approach the learning as rote and compulsory. Because human behavior is complex and people are naturally curious it is important to design instruction assisted by motivation.
Knowing what motivates people, what satisfies humans in terms of design and how it impacts the learning process, allows the crafting of an effective eLearning design. Motivation itself is a broad subject, but that doesn't mean you need a PhD to use it in your design. There are three distinct motivation theories that have been developed by scientists and psychologists that try to explain ways to motivate learners. All three seek to explain motivation and how it impacts the learning process. Look at the key ideas behind each theory and use them to improve the effectiveness of your courses.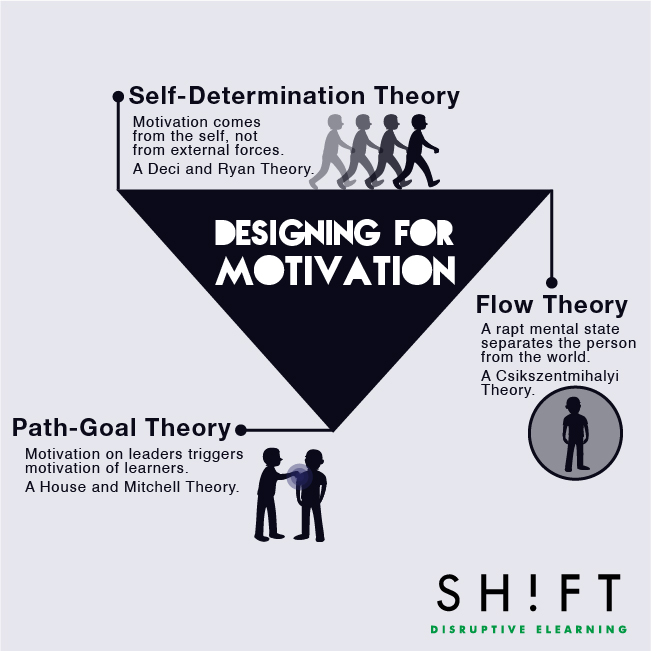 1) Flow Theory
This theory, developed by Mihaly Csikszentmihaly, seeks to describe a state in which intrinsic motivation occurs. Csikszentmihaly coined the term "flow" to explain the optimal experiences that occur when a learner is in a mental state of complete engagement with an activity. Creating flow experiences in eLearning is beneficial to promote a sense of control, satisfaction and fulfillment.
True "flow" requires a dynamic process in which online learners meet individual challenges while learning new skills. As more skills are mastered the challenges must become more difficult to keep motivation levels high. To use the flow theory when improving motivation in eLearning courses make sure to:
State clear objectives:

Clear and focused goals are essential to the learner's understanding and ensure clarity in objectives, tasks, and understanding.

Provide consistency: Consistent formatting and a "look and feel" that feels cohesive all t

hroughout

allows learners to quickly understand the course format, assignments, and requirements.
Address appropriate skill levels:

Clearly state upfront the prerequisite knowledge for the course and ensure that skills and materials match the typical skill level of students.

Reduce distractions:

Reducing distractions allows your students to focus on essential understanding and eliminates confusion and anxiety.
2) Path-Goal Theory
The path-goal theory, developed by Robert House, asserts that a learner's performance and motivation is directly influenced by the behavior of the instructor or leader. Online instructors and course developers must implement meaningful tasks, provide support, and utilize behaviors that match the learners needs and expectations. Essentially, if a learner thinks he can succeed in a course then he will be more motivated to perform.
Utilizing the Path-Goal theory in eLearning requires you to encourage learners to meet specific goals. You must provide incremental information to guide learning. There are four essential behaviors related to the Path-Goal theory:
Directive: The course provides clear instructions, sets norms, and establish measurable learning objectives. Letting learners know what to expect is key. We already have talked about

the problem of failing to deliver what's promised.

Supportive:

The course provides different levels of support from instructors, it is approachable and user-friendly.

Participative:

Design a course so that there are different types of interactions (instructor to student, student to student and student to content).

Achievement-oriented:

It challenges learners to do their best and provides confidence that learners can achieve end goals.
3) Self-Determination Theory
This general theory of human motivation, developed by Edward Deci and Richard Ryan, emphasizes self-determined behaviors of the learner. The focus on self-determination allows the learner to perform out of interest and clearly established goals. Internal motivation comes from within the learner and is connected to the understanding that the learning is beneficial and meaningful.
The main element of the theory concerns the extent to which learners fulfill their basic psychological needs; the more they achieve these basic needs, the more their behavior is self-determined. Some learners may struggle with establishing internal motivation during eLearning courses because they view it as a job requirement instead of a meaningful experience. In these instances, course developers can positively influence students' motivation to learn by maximizing their autonomy, competence and relatedness:
Competence: A learner's competency reflects the sense of being able to do something well. Therefore, give the learners opportunities to develop their competence as they complete the course, for example they must be able to make decisions that have consequences, feel confident in doing something well, and have the opportunity to complete challenging tasks.
Autonomy: Provide learners a level of individual control as they complete course. For example, provide them the possibility to choose the order of topics or areas that they can explore. Multiple channels for success provide learners with more than one way to reach the goal.
Relatedness: Plan for learner interaction and discussion, such as forums and discussion groups. Online learners benefit from peer interaction just as learners in traditional settings do.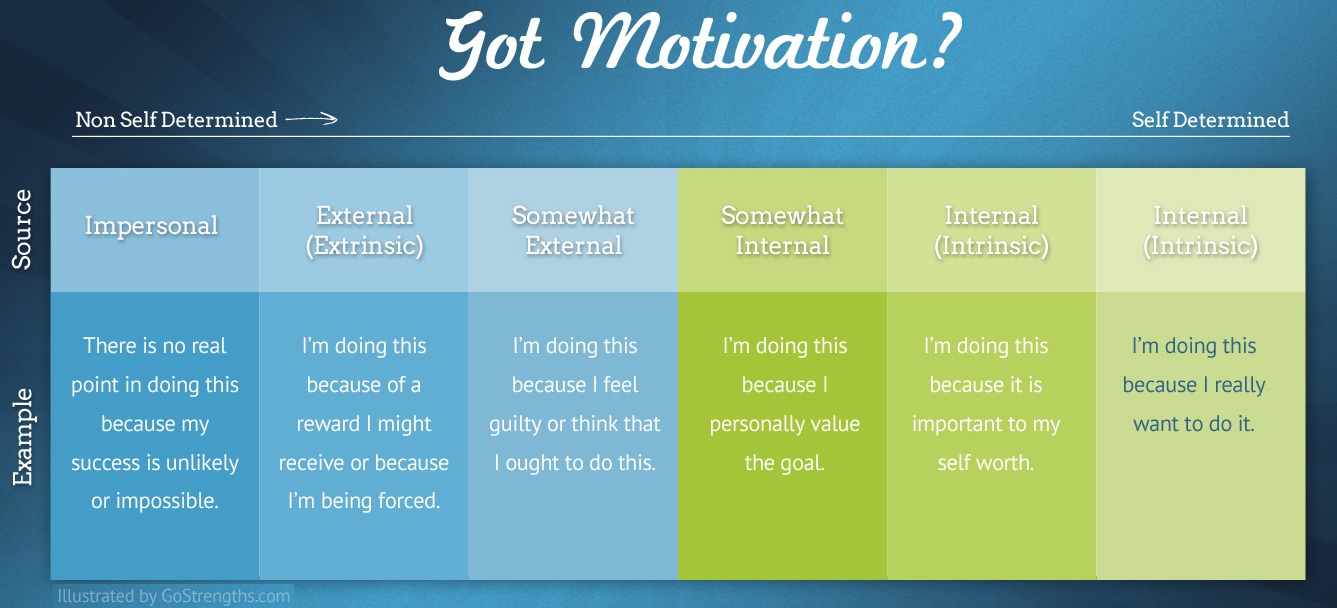 Image Source: GoStrengths
Remember: ''There are three things to remember about education. The first is motivation. The second one is motivation. The third one is motivation.'' Terrel Bell
Further Readings: