The challenges for designing eLearning courses are more than just developing course content. If you plan to attract and keep learners in your course, there are certain design strategies you need to focus on. Just to name a few, your course needs to be easy to navigate, appealing to the eye without being cluttered and contain quality graphics.
Here are three possible problems with your eLearning design along with suggestions of ways to improve the structure, content and graphics.
1) Poor Course Structure: Before and After
This refers to how learners navigate through your course and locate the information they are looking for. Usually poor course architecture results from no planning. That translates into a cobbled together course where the flow from module to module, or page to page is not intuitive.
Poor Course Structure: The Before
If the course's navigation structure is not intuitive, difficult, tedious and time-consuming, users give up and move on. Being unable to proceed to the next section or having difficulties finding where to go next frustrates users.
Poor Course Structure: The After
The improved eLearning design has navigation tools with options to meet the needs of all learners. It is clear to the learner what topics are featured and navigation to those topics is intuitive.
The necessary components of the course structure may vary, but certainly all the major parts must be included: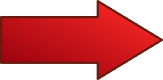 Also, keep in mind the following elements when structuring your course effectively:
In addition to the standard "next" and "back" buttons, add arrow icons as options.

.

Add a simple menu or table of contents so learners can quickly find content.

Group content into logical modules (avoid creating modules that exceed 8-10 pages).

Provide "breadcrumbs." This is a technique that allows users to easily find their way back to the main menu after they have been navigating through your course. It's essential that at any time users are able to find their way forward, their way back and to see where they are in relation to where they started and where they are going.

Give the learner as much control as possible in how they get their information.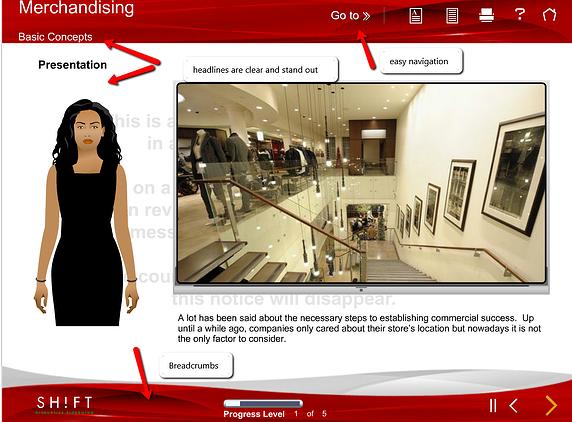 2) Content-crammed Course:

Before and After
Content should be easily understandable. You want the course to guide learners, not confuse them. Learners are often limited in the time they have and they want to avoid information overload.
Content-crammed course: The Before
Clearly the problem in this example is that there is so much content presented that users cannot decide what icon to click or what to do next. While the prupose may be to teach a lot of information, what actually happens is that learners become confused. They do not understand the point of all the overwhelming, extra content and leave the course. The poor balance of text, images, and multi-media doesn't help you grab your learners' attention either. There is a combination of too much information, decoration, and unneeded clutter. You can easily fix this with an improved eLearning design.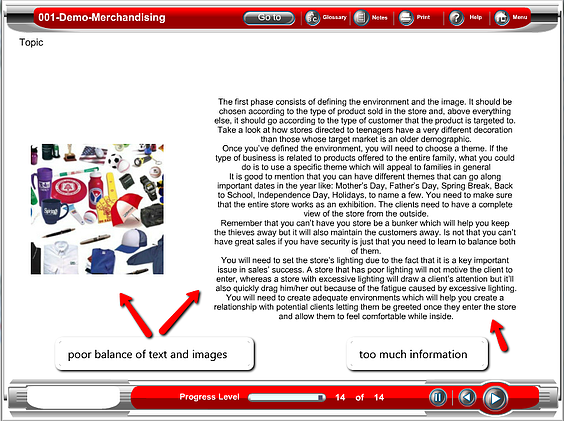 Content-crammed course: The After
In order to improve a screen filled with text, the first thing you must do is to use short paragraphs and lines. When presenting text, make it in short, clearly focused modules.
Relevant information is clear and easily accessible. Putting less on the screen will have a deeper impact. By leaving more white space and removing a lot of content you give your learners a chance to breathe.
Other clever techniques to avoid content-crammed courses:
Leave more white space and remove content that belongs on another screen.

Highlight the most important information so learners can immediately focus on what they need to know.

Provide a method of doing a quick search so learners with a limited amount of time can quickly study chunks of material for a specific lesson.

Provide comprehensive, interactive content in different formats such as Word documents, PDFs, PowerPoints, audios and videos with the length of the document or time to view the video or listen to the audio are clearly marked.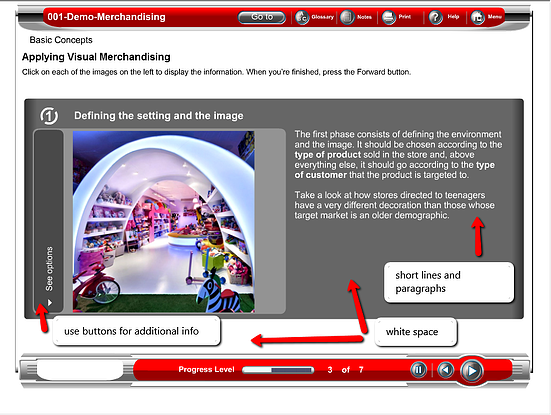 3) Noticeably outdated visuals: Before and After
Visuals (images, photos, clip-art, charts, etc) are vital to keeping learners engaged and are an important role in eLearning design. But, they shouldn't be gratuitous; they must be appropriate and serve a purpose.
Noticeably outdated visuals: The Before
Do not add graphics just for the sake of having a graphic. Some eLearning sites include pixelated pictures, muffled audio and grainy videos that were taken with a shaky cam. This type of graphic makes your eLearning course appear outdated and unprofessional. A few simple design tweaks can remedy this.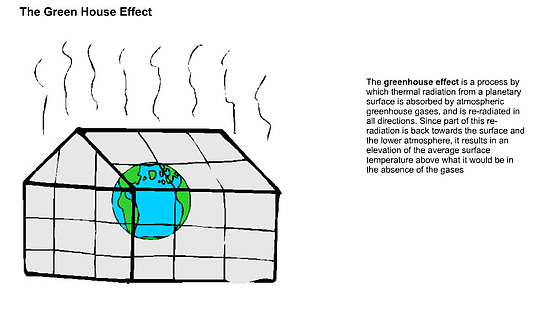 Noticeably outdated visuals: The After
Graphics are now clear and updated. Low quality pieces that made the course seem unprofessional were updated with high-quality graphics. Images are appropriate, descriptive, and are directly relate to the content on the screen.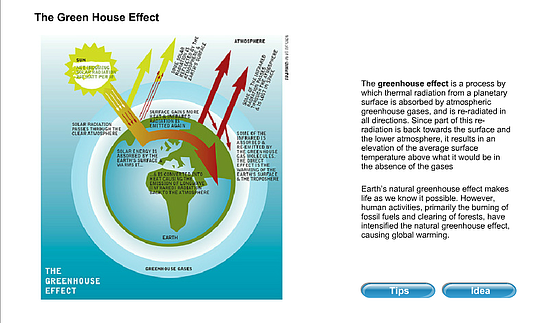 What are some of the worst eLearning offenses that affect engagement levels? What have you changed on your course to improve performance?