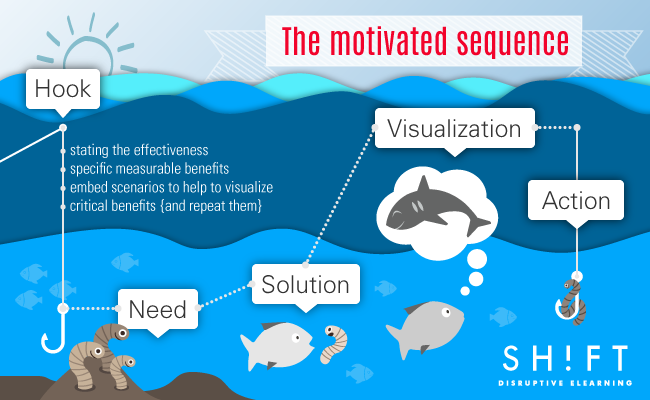 ---
Persuasion is an art. Try too hard, and you might be branded as being aggressive. Be gentle, and your message will probably be brushed aside. At the end, the ultimate goal of persuasion is to get a person to change. Persuading someone to come round to your point of view is especially challenging in a virtual learning environment that lacks the intimacy of a face-to-face interaction. What is more, your learner has a choice to go or not go through your course. Thankfully, researchers have figured out how the learner's mind works and how to "persuade" it to fall in line with your content.
Monroe's Motivated Sequence lists a proven process—Hook, Need, Solution, Visualization, and Action—to convert a reluctant learner into an enthusiastic participant who readily absorbs the learning and willingly agrees to change his behavior. In eLearning, "telling isn't teaching," and you cannot persuade if you just state the facts. Facts alone won't significantly change the way people think, do, and feel. You have to carefully choose every element on the screen to do all the coaxing, cajoling, imploring, and pleading to engage and persuade your learners to do something new.
Follow this no-fail process for creating eLearning that persuades and changes behaviors.